Trijinx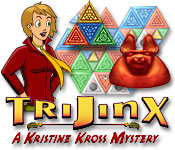 You'll need speedy fingers and an eye for color as you help Kristine Kross on her adventure to find her father. You'll have to match falling triangles and line up like-colors to find your way out of TriClops' tomb. Use the rotating board and tricky shapes to clear the board and escape.
68 levels.
3 gameplay modes.
Fun animations.
Trijinx is free to download and play. After you download Trijinx you have 1 trial hour to decide whether you like it or not. You can buy Trijinx online right away, instantly and securely.
Jump back in time to play this Egyptian twist on action puzzles!